What Services Do We Offer
Here at Ampi Electric, we pride ourselves on providing top-notch service backed by years of real-world experience. Whether you are in need of residential electrical repairs or commercial installations, Ampi Electric has you covered. 
Residential And Commercial Electrical Installations, Repairs, And Upgrades
Ampi Electric, Inc. has been providing residential and commercial electrical services to the South Florida market for over 20 years. We are a full service electrical contractor and offer a complete range of residential and commercial electrical services including installations, repairs and upgrades. You name it, we can do it! From new construction to complete renovation work to residential electrical updates, Ampi Electric is the company to call to meet your most demanding electrical requirements.
Power & Lighting Installations, Repairs, And Upgrades
Municipalities, Commercial Developers and Homeowners all have power and lighting needs.  When you need power lines run where they don't currently exist or need power or lighting solutions for your next project, Ampi Electric is capable of handling the most complex and demanding jobs down to the smallest, simplest detail.  Our team of experienced and licensed professional electrical technicians are here and ready to help you today.  Contact us now to discuss your upcoming project for power and light installation, repairs or upgrades and how Ampi Electric Inc. can help.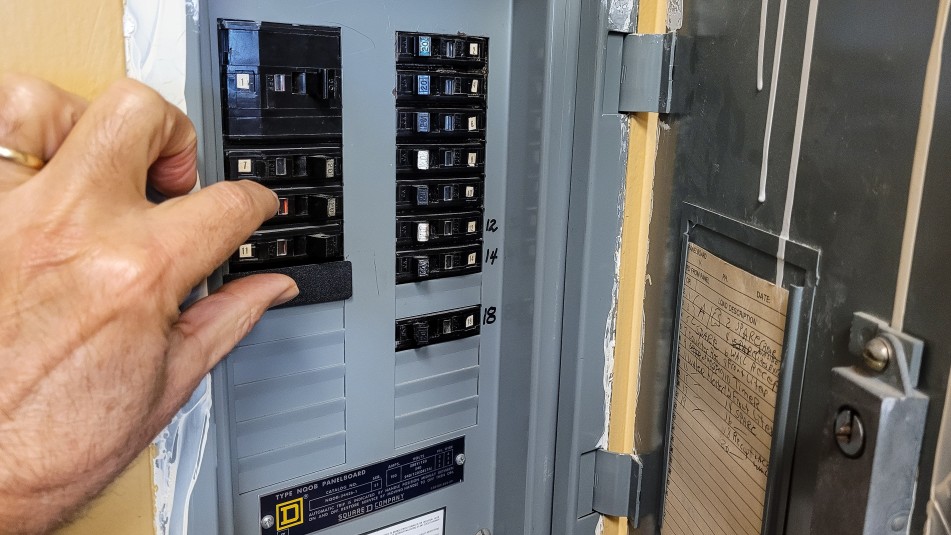 Breaker Panel Installations, Repairs, And Upgrades
Your electrical panel is the heart of your electrical system. If your electrical panel breaks or fails, your power situation becomes an emergency. Ampi Electric can come to your home, business or construction location to determine both your paneling requirements for new installs or the fastest and most efficient way to replace or repair your existing panel. Our licensed, honest technicians will inspect your electrical panel and figure out if you need a simple repair, if there is more serious damage to the panel and if your panel is adequate for your property's electrical needs.
If your electrical panel is older it may simply be outdated and unable to handle the current energy requirements of your home or commercial property. If you have a Zinsco, Federal Pacific, I-T-E Pushmatic, or GTE/Sylvania brand, it is likely time for an electric panel upgrade as these panels were recalled years ago for severe safety defects.Sometimes a panel replacement can actually be less expensive than continuing to use a panel that is not up to current standards. Either way, Ampi Electric will inspect the situation and provide you with the best electrical panel solutions available that consider your safety and your budget.
Service Entrance & Meter Box Installations, Repairs, And Upgrades
When your South Florida electrical service is not functioning properly or showing signs of overload, you may need to increase the amount of power coming into the property.
The service entrance and meter box is where the lines from the city power supply access your property to provide your power source. Many South Florida homes or businesses that were built more than 30 years ago have electrical systems that were not built to handle today's electrical needs. In these cases an electric service upgrade is not only desirable but a safety necessity. An outdated home electrical system attempting to handle modern electricity needs may struggle with flickering lights, tripping breakers, too few outlets and also can be dangerous. Electrical fires account for almost half of the home fires in the United States in any given year resulting in major property damage and countless lost lives.
When meter boxes start to fail it can cause flickering lights when there are high load situations in different areas of a home or business. The flickering may only happen at times that there is heavy electrical usage and will subside when the load is reduced and the connection cools. If you notice any flickering that occurs over more than one circuit, call your utility company to inspect the meter socket and the wiring from the street to your meter. You can also turn off the breaker for the room where you notice the flickering and then check other rooms for similar problems. Electrical sockets on the same breaker can remain powered even when the lights flicker. If you find your meter box needs to be replaced Ampi Electric can recommend the correct meter box for your needs and handle the professional installation.
Interior And Exterior Lighting Installations, Repairs, And Upgrades
Looking to really create that WOW factor with the lighting both inside and outside your home, business or commercial property? With Ampi Electric your lighting dreams can become reality. We provide a complete range of interior and exterior lighting installation, repair and upgrade solutions for your entire property.
Older lighting systems in homes and businesses feel outdated and provide inefficient and often inadequate lighting. When you are looking to upgrade, replace or install new interior or exterior lighting solutions for your South Florida home or business, Ampi Electric is the company to call. We consult, design and install new lighting that will transform your home, business or workspace to be brighter, more energy efficient and more beautiful than you can imagine. LED lighting provides greater and more controlled light and by adding recessed or puck lights your space instantly becomes more modern and visually appealing.
If you are in need of ceiling fan installation Boca Raton Fl electricians here at Ampi Electric will get you fixed up in no time.
Electric Car Charging Station Installation Boca Raton FL
Do you own an electric vehicle and need a charging station installed on your South Florida property?  Electric vehicles are no longer a distant vision of the future.  They are here to stay and only becoming more and more common.  Installing an EV charging stations Boca Raton in your home, business or commercial property is probably not something you want to try to do yourself.  
When looking to have an EV charger installed at your residence or commercial property there are variety of things that should be considered.  The electrical experts at Ampi Electric can help you select the amperage needed to meet your needs while keeping your expenses down.
A few key points to consider when installing an EV charger on your property include:
Speed of Charging Station – Vehicles can receive a full charge in approximately 20 hours with a Level 1 charger or within around 3 hours on a Level 2 charger.

Amperage – If you need to serve multiple vehicles you may want to consider a charging station with greater amperage.

Cord Length – When you have a longer cord it can often save on installation costs and create a much more convenient charging experience.

Call Ampi Electric today to discuss your South Florida EV charging station installation needs and we'll help you through the entire process.

 
Electrical Whole-House Inspection
If you are looking for a South Florida electrical inspection it may be for any number of reasons.  You may be looking to sell your home, buy a home, seeking insurance coverage or making a claim.  Perhaps you are simply concerned because your property is older and you want to make sure that the home or business is safe.  Ampi Electric's technicians are experts when it comes to electrical whole house inspections.  
There are a myriad of things that we look at when doing inspections to determine the safety and efficiency of a home or commercial property.  With our proprietary inspection checklist we'll look for these common problems and many others
Older/Unsafe Panels
Ungrounded Receptacles
Double Tapped Circuit Breakers
Wrong Covers on Outdoor Receptacles
Too Few Receptacles/Too Many Extension Cords in use
Non-Tamper Resistant Outlets
Unfilled Openings in Breaker Panel
No GFCI's in Bathrooms/Kitchen
Home Generator Installations
In South Florida, there is always the threat of power outages from hurricanes, thunderstorms and lighting.  Home generators are the perfect way to ensure that your home or business is always up and running with electricity.  But what is the right generator for your home or commercial property's needs?  Ampi Electric can work with you to determine your electrical needs in the event of a short or prolonged power outage to provide your family or business with the power it needs by keeping the A/C and the lights running.  Our job is to provide you with the right solution at a price that makes sense for your home or business.  From there, we can handle everything from acquiring the correct units to the full installation, setup and teaching you how to use it.  Call Ampi Electric Inc. today to get ahead of your South Florida generator installation needs before the next outage happens
Whole House Surge Protection
Ever seen a lighting storm in South Florida?  Of course you have!  When lightning strikes on or close to a property it can cause an electrical surge that can destroy your expensive and valuable electronic devices.  When people think surge protection they normally think of power strips that are sold at many box stores.  But these are inadequate solutions for a more serious power surge.  What you need is whole house surge protection.  
Most homes today have upwards of $15,000 worth of electrical devices all of which are at risk in a surge.  Surge protective devices (SPDs) can prevent damage to the appliances and electronic devices in your home or business when there is a temporary voltage spike.  These spikes can affect your entire electrical, phone, network and cable system.
When surge protection is installed at the electrical panel, it helps protect all the devices in the home, including those that are not plugged into a surge plug strip.  Also, many appliances including your HVAC system, refrigerator, washer/dryer and stove cannot connect to a power strip and needs SPD's to protect them. If you are looking to protect your South Florida residential or commercial property from the effects of power surges, Ampi Electric is here to provide you with the right whole house surge protection solutions for your property today.
Electrical Safety Inspections
Finding and resolving potential hazards or weak links in your electrical circuits before they cause problems is essential for the safety of your home or business.  
By doing a thorough Electrical Safety Inspection of electrical components — appliances, wiring, and safety equipment such as fire and carbon monoxide alarms — prevents many electrical and fire incidents and guarantees that your home or business:
Meets building and safety code regulations.

Is protected from poor workmanship or negligence by previous owners.

Is safe from electrical fires and other hazards

 
With over 20 years of experience in South Florida Electrical Safety Inspections, Ampi Electric, Inc is the licensed and bonded South Florida electrical contractor you need to call when it is time for your electrical safety inspections.
According to a 2009 study by the National Fire Prevention Association, faulty wiring is the leading cause of residential fires. The older your home is the greater chance that this becomes an issue. At issue is not necessarily the age of your wiring but whether or not the wiring is up to code. If you have an older property in South Florida and have not had the electrical wiring looked at recently, it is worth the cost of an wiring inspection to determine if you are in need of wiring upgrades or wiring replacement before disaster happens. 
Just because the lights come on when you flip the switch, the TV works, and A/C is running doesn't mean that the electrical wiring in your home or business is necessarily in good condition. There may be times, especially if your property is more than 40 years old, when you need to upgrade electrical wiring for safety purposes or because the existing wiring no longer meets your power needs.
Without a proper review of your electrical situation it can be difficult to determine if a wiring upgrade is needed. Many insurers will either not insure a property or charge much higher premiums without a wiring upgrade on older properties. And while rewiring can be a tough and expensive job, with some upfront planning you can minimize disruptions to your South Florida home or business and even turn it into an opportunity to add features that will increase the value of your property.
CO Detectors And Smoke Detectors
There are numerous deaths in homes each year as a result of fires and carbon monoxide poisoning. With regularly inspected and professionally installed smoke detectors or carbon monoxide detectors, you can prevent a tragedy like this from happening in your South Florida home or place of business. The average life expectancy of a smoke detector is 8-10 years. If you have not changed your smoke detector in over 10 years or have purchased a home with older smoke detectors then you should look to have them replaced.
Properly installed and positioned smoke detectors and carbon monoxide (CO) detectors prevent countless deaths and injuries yearly. For maximum benefit, having them professionally installed and correctly placed is crucial to ensure they do their job in warning you of danger. Ampi Electric will identify the best areas to install your detectors and can perform the installations and periodic inspections to allow for maximum safety for you and your family.
Tankless Water Heaters Power Installations
Did you know that your home's 2nd largest usage of energy is from your hot water heater? Traditional water heaters are an incredibly inefficient means for heating water. A 40-50 gallon tank is filled with water and uses energy 24/7 to keep the water warm. If two people take a shower at the same time, or if the washing machine or dishwasher is running while someone wants to take a bath, the hot water disappears quickly and will not return until the tank is full and reheated.
A tankless water heater generates hot water only when you need it—and for as long as you need it—saving up to 50 percent of fuel costs over tank heaters. And because there's no tank, there's almost no chance of a leak. Since their introduction in the 1990s, tankless heaters have become much more technologically advanced, with features like built-in recirculating pumps for instant hot water and wireless connections that tell you via smartphone when a unit needs maintenance.
A tankless water heater is economical, low maintenance and has a much longer life expectancy than tank heaters. Ampi Electric can work with you to advise for the proper location for your tankless water heater and handle all the power installation and setup to make sure your new heater is running properly and using the minimum amount of energy possible.